Family Photo Album


Historical Photos of the People
Who Inspired Characters in Douglas Armstrong's Novel
(with comments by the author)
My mom's stories of her Kansas
childhood form the basis of much of my
novel, Even Sunflowers Cast Shadows.
This is her at the age in question. She hates
this old photo. "Where did you get that?" she
demanded when she saw it. I think it might
have been taken right after Thad gave her
one of his famous haircuts - and saddled
her with a month's worth
of bad hair days.

Emma, age 7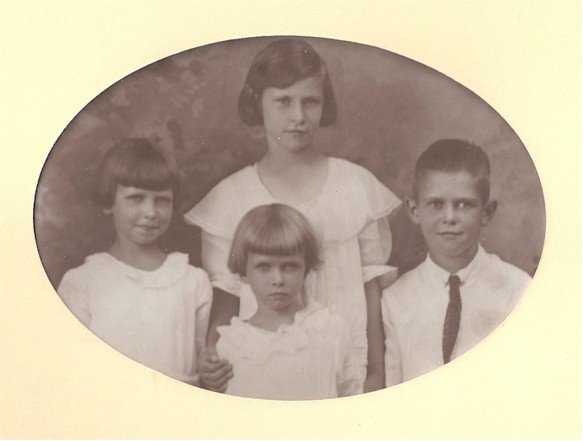 The Real Starkey Children
That's Emma on the left and John Bee on the right. Emma's real sisters were Ethel and Fern.

The characters of Sue-Sue and Eileen are completely fictional in my
novel. But I took inspiration from my mother's real sisters, Ethel and Fern,
who were two terrific aunts. As adults, they helped form a pattern for Aunt Fern,
who is also loosely based on my mother's real aunt. Confused? My mom was. The
John B. character is based on her brother John Bee, who I suspect is seated in
this picture. His younger sister must have been taller than he was by then or it
would have been him standing in the center, not her. Maybe they wrestled for it.
I never knew John Bee. He died in World War II. The thing I most remember about
my aunts is how they'd be off laughing raucously in another room whenever they
got together. There was so much joy in that family.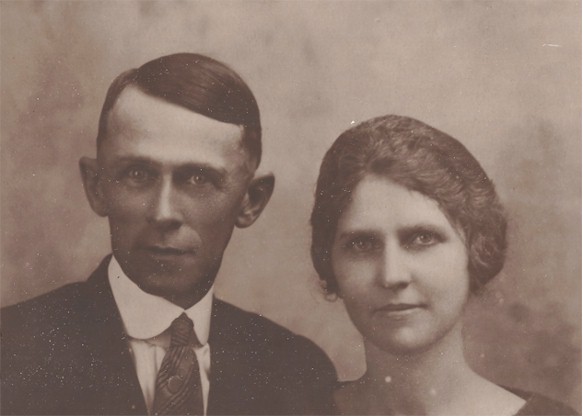 Thad and Jessie Starkey (Mama)
Here are the inspirations for Thad and Mama in my novel.
By the time I was born, my grandmother was quite changed. Her
face was fuller and sweeter, her hair snowy white. I don't recall
her eyes being so deeply set. Thad, on the other hand, was not
that different. I can practically see his big ears wiggle.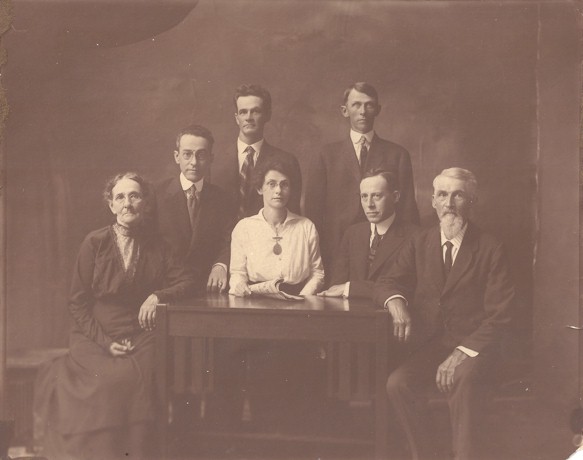 The Starkey Family
(From Left) Grandma Thaney, Uncles Roy and Frank, Aunt Fern, Thad, Uncle Walter, and Pa Joesy

I didn't see a photo of Thaney or Pa Joesy until I'd already
written them as characters. Funny, they were just as I had pictured
them based on my mother's descriptions. Also of interest to me was
my Mom's Aunt Fern, who I think is smart and striking in this picture.
I've often seen family photos like this in antique stores and thought
what a shame some family's history has been tossed into a bin. I feel
very fortunate to have this old photo of ancestors I never knew.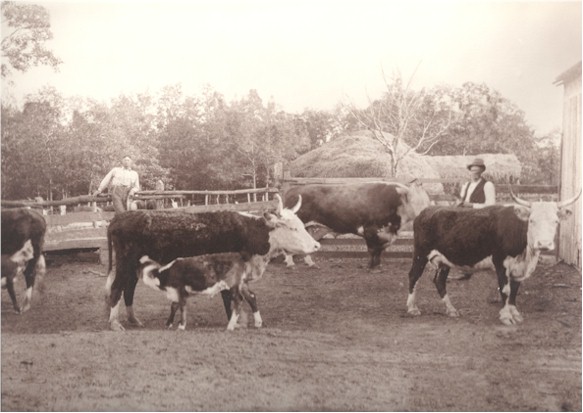 Thad (on the fence) with Uncle Frank watching cattle in Ohio
I thought it was total invention when I decided that Thad
wished he had a ranch and cattle. I just knew he seemed unhappy.
Then I discovered this photo among papers my mother's cousin had
gathered, and I learned the idea was not far fetched. My mom was
quite surprised. She never knew her dad had been a "cowboy."
Her family referred to the Ohio place only as a farm.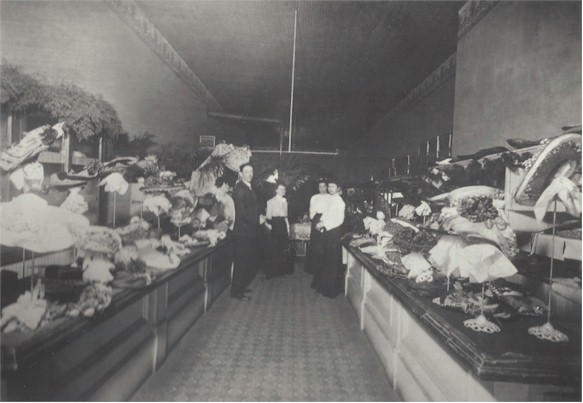 Aunt Fern and Uncle Roy's millinery in Nevada, Missouri
According to an account from the time, Roy began decorating
his mother's hats as a young man. "When the neighbors found out,
they wanted their hats fixed," the family historian writes. Roy and
Fern had their own hat shop in Nevada, until Fern went with a
"trimmers job in Texarkana," the notes say.